Screenshots : Crystals
2012
This project is a collaboration between myself and artist Debra Baxter. Both Debra and I participate in the global nomadism of our time, with family and friends scattered across states and countries for work and study. While Skype video enables us to connect with our respective loved ones, it is an imperfect means of communication, fraught by pixelation, spontaneously frozen images, and lagging video. In Screenshots : Crystals, we focus on those moments of breakdown.

Drawing on Debra's previous sculptural work with minerals and my photographic preoccupation with video screenshots, we reprocess Skype's digital artifacts through prints on paper, water, minerals, and video animation. Digital pixels mingle with organic crystals, overwhelming the recognizable portrait and yielding images of an ambivalent intimacy.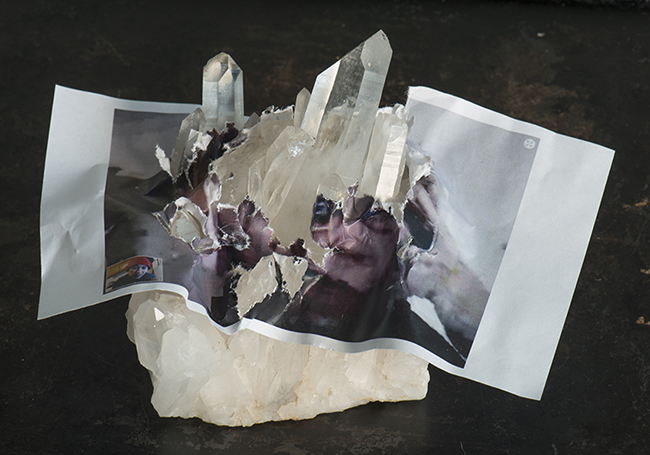 Screen shot 2010-11-30 at 3.08.48 PM (Zaida, Quartz)
2012
Photograph
70 x 100 cm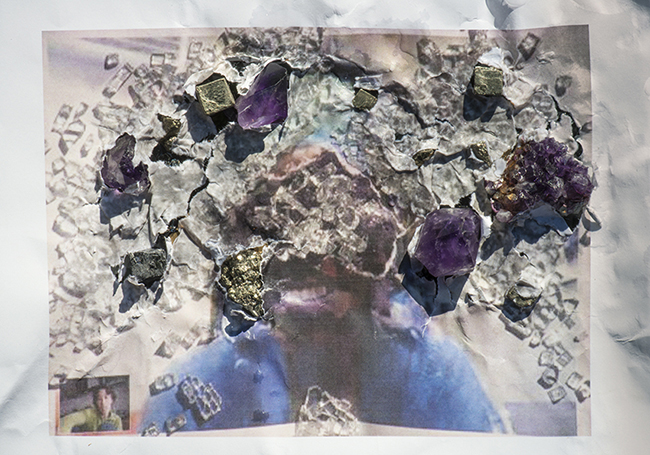 Screen shot 2010-10-24 at 4.07.17 PM (Linda, Minerals)
2012
Photograph
70 x 100 cm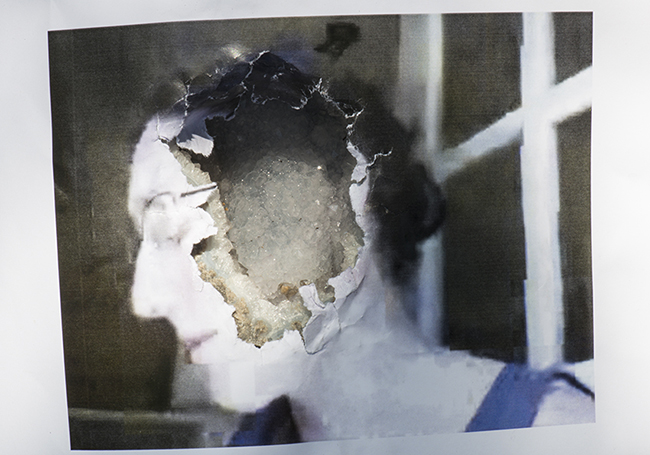 Screen shot 2011-07-22 at 5.37.32 PM (Torrey, Quartz)
2012
Photograph
70 x 100 cm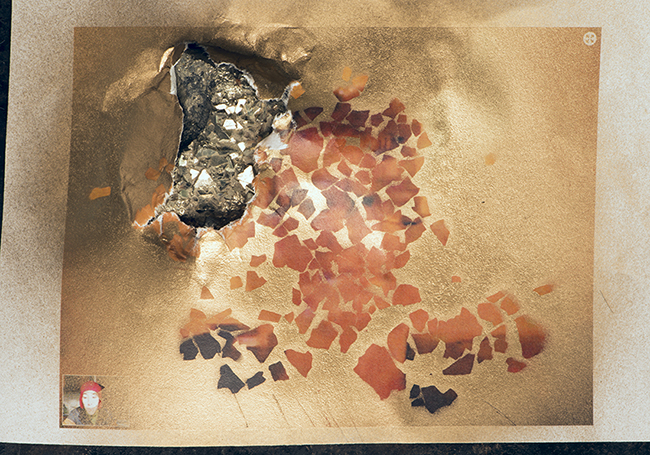 Screen shot 2010-12-02 at 7.11.22 PM (Eleanor, Pyrite)
2012
Photograph
70 x 100 cm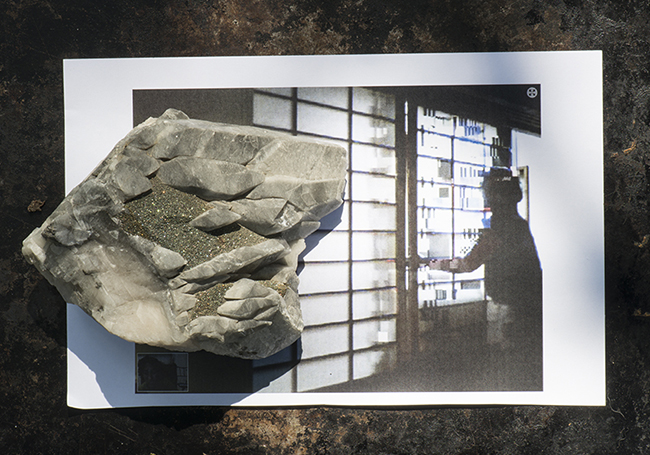 Screen shot 2010-10-08 at 6.56.17 PM (Linda, Calcite)
2012
Photograph
70 x 100 cm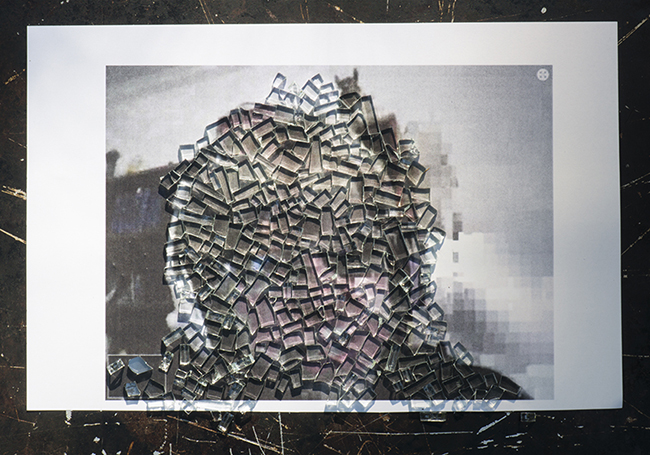 Screen shot 2010-11-30 at 3.09.20 PM (Zaida, Glass)
2012
Photograph
70 x 100 cm



Screen shot 2010-12-02 at 7.11.22 PM (Eleanor, Citrine)
2012
Photograph
70 x 100 cm



Screen shot 2011-01-31 at 7.46.50 PM (Deb, Glass)
2012
Photograph
70 x 100 cm



Screen shot 2012-07-06 at 10.45.50 AM (Brooke, Quartz)
2012
Photograph
70 x 100 cm



Rob and Deb, Pixels and Crystals
2012
Paper, glass, amethyst, quartz, pyrite, wood frame
7 x 9 inches each



Rob and Deb, Pixels and Crystals
Detail



Rob and Deb, Pixels and Crystals (30 second excerpt)
2012
Two channel video
30 second loop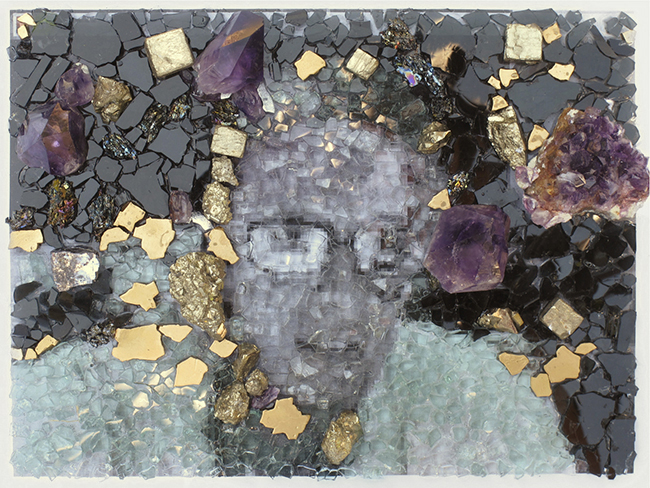 Rob and Deb, Pixels and Crystals video still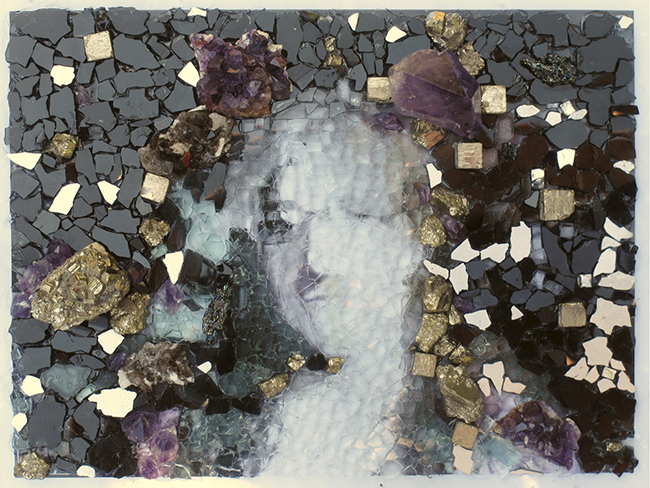 Rob and Deb, Pixels and Crystals video still